We've moved!
Hello! We're now in Ditmas Park, still in Brooklyn, not far from where we lived previously. We're surrounded by gorgeous Victorian houses, while not being in one ourselves. To me this is the best of all possible worlds. Having owned an old house already, I'm happy to admire the houses around us and haven't the slightest desire to deal with one myself. They're all enormous, for one thing, they look like they require constant upkeep and would be a bitch to heat and/or cool, and they're probably filled with spiders. Give me a good sturdy apartment building any day.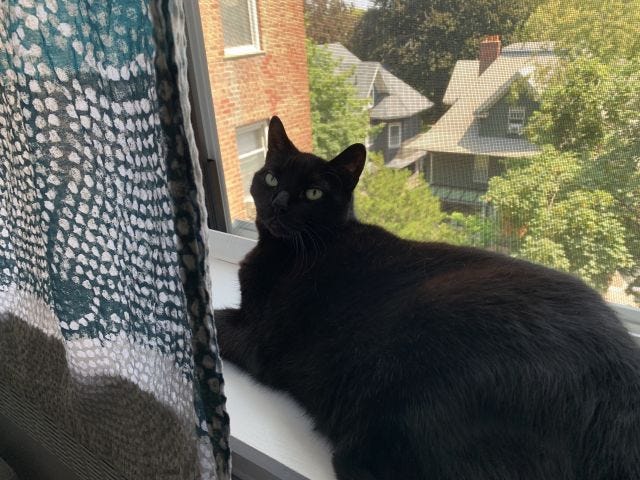 (Izzy would love to be in one of these houses, probably. ESPECIALLY for the spiders.) 

For those of you just catching up, we downsized because Henry moved to his own apartment in the East Village. He can sleep over in our guest bedroom if he wants to, but will he ever want to? He's minutes away, in his Empire of Filth. We visited a couple of weeks ago and were like, "Dude, before we arrive, could you at least flush the toilet?" It is gross, and he loves it there. 

Here it is tree-lined and lovely and just far enough from Manhattan to be sort of a pain, but that's the trade-off. One thing we've gained from this move is quiet. It is so blissfully quiet here. Anyone who asks me how our move is going, I whisper about the quiet. I can't get over it. Our old place was so loud. We lived on a busy street where cars liked to race with their souped-up engines specifically designed to make noise, for some reason? Because that's fun? And the building itself seemed to be designed so that we could hear everything, from all the neighbors, all the time. Our upstairs neighbors included a boisterous fellow who lived, laughed, and loved out loud, and was prone to regularly bleating with joy for no reason we could discern, other than Life! Our downstairs neighbor was having a lot of sex, which, good for her, but she seemed to really be acting it up, in my opinion. Our next-door neighbor was running a mysterious business out of her apartment. Every half hour her doorbell rang, and then there was much clomping of shoes and shouting in foreign tongues and lo, we did wonder about her.  Given that the walls and floors seemed to be made of papier-mâché, I'm sure our neighbors weren't too thrilled with us, either, with our scurrying animals and noise-emitting teen. 

It's so quiet I am beginning to think we're alone in the building. Is everyone summering elsewhere? Is this a place where people Summer? Oh, how I wish we could Summer! But Noooo we had to spend all our money on moving. Oh my god, the move was so bad, too. I mean it all ended up fine, we're here and in one piece more or less, but the process was agony. The last time we moved, we paid extra for the movers to pack for us, only Scott couldn't wrap his head around it, and we spent weeks before the move yelling at each other about it. "Stop packing!" I kept telling him, "The movers will pack, that's why we're paying them!" "SURELY THEY WON'T PACK THIS!" he would yell back, holding up a lamp. "THEY WILL PACK EVERYTHING," I shrieked. "WHY DID YOU BUY BUBBLE WRAP, YOU MONSTER."

So this time we packed everything ourselves, and never again, do you hear me? NEVER AGAIN. I have PTSD from the sound of packing tape. Never. Again. Next time we will be knocked unconscious, then an army of movers will descend upon our apartment, packing everything and taking it all away, and we'll come to in our new place, a little headachy and groggy, just in time to hand the movers all our money. And it will be worth it. 

P.S. I've really enjoyed hearing from so many of you, and I THINK I've been replying via TinyLetter, but it's kind of hard to tell, so if you don't hear from me, I swear I tried. Please let me know if you have any requests or questions I can answer, and/or just tell me about your summer.