Discover more from The Fainting Couch
Weekly nonserious reports on whatever's going on in my head—and recommendations for things you might enjoy.
Over 2,000 subscribers
Alice's Weekly: You're my best friend
This week I've been trying to write while standing because as we know, sitting will be the death of us all, and if we never sit down we'll live forever. The problem wth standing is that my brain clearly thinks I'm going somewhere because all I do is walk away from my computer. When I'm not walking away I'm thinking, "I'm standing! Why am I standing!"

Also, it seems I need to hunch, anguished and shame-filled, while writing. Standing is too exposed. I can't think while I'm engaged in some kind of power pose. Who writes like that? Arianna Huffington, probably. It's always her. 
If sitting is bad, how is lying down? Can I lie down? I think I could write while lying down. Not standing, though. Stop making me stand! 
STUFF I DID 
Nothing I can share. Yet. 
STUFF OTHER PEOPLE DID THAT I FOUND EXEMPLARY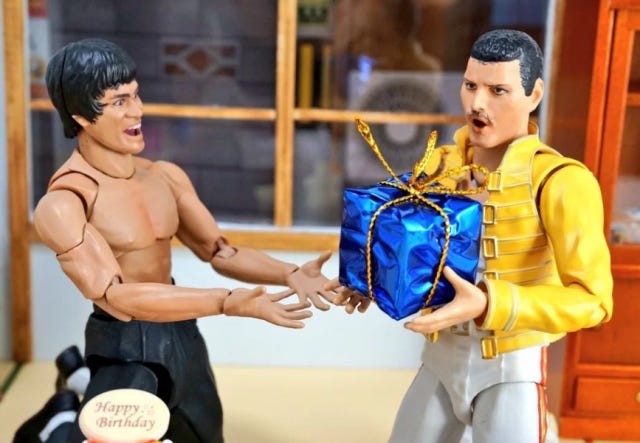 Bruce Lee and Freddie Mercury are best friends on this Japanese Twitter account
More importantly, there's a Freddie Mercury action figure and can I buy it for myself? (Of course I can. I'm a goddamn adult.) 
Why You Can't Dial a Phone, Read a Book or Escape a Monster in Your Dreams
Anytime in a dream, when someone is trying to read or look at numbers, or there's a very complicated visual representation — for example, a number pad or a page of a text— this is usually reported to be very difficult and to not really work correctly. And I think the reason for that is a very "duh!" obvious answer, which is that you can't dial the telephone because there's not actually a phone there. 
I can't say I'm fully satisfied with this explanation, DREAM RESEARCHER. But this interview is fascinating, nonetheless. Dreams are weird. (Don't tell me about yours.) 
Why You Should Aim for 100 Rejections a Year 
My rejections became tiny second-hand ticks on the slow-moving clock of my writing career, counting down to an acceptance, another revision, a long rest for the piece in the bottom of a drawer—or possibly, a return to the clay pit of my subconscious. I saved all of my rejection slips in a box, and kept an extremely kind and personalized handwritten note from the Nonfiction Editor at the Indiana Review on my window frame as a talisman of encouragement. While procrastinating on writing my MFA thesis, I found an ancient wooden desk on the street, pulled it into my apartment, and started shellacking it with hard-earned rejection slips. It became my writing desk.
Rejections as home decor! I approve. 
Exit, Stage Left: What Happens When You Get Sick of Your Dream?
What if, after years of searching and slogging and getting more and more tired, you start to realize the Dream isn't an object to be attained or a quest to be undertaken? What if the Dream is a box that you've drawn around yourself?
Ohhhh. This started out chilling me to my very marrow. And yet ended up feeling somehow thrilling. Thrills and chills! 
I'm still sitting AND STILL ALIVE,
Alice