Alice's Weekly: It's time to get cosy
It's finally here: sweater weather!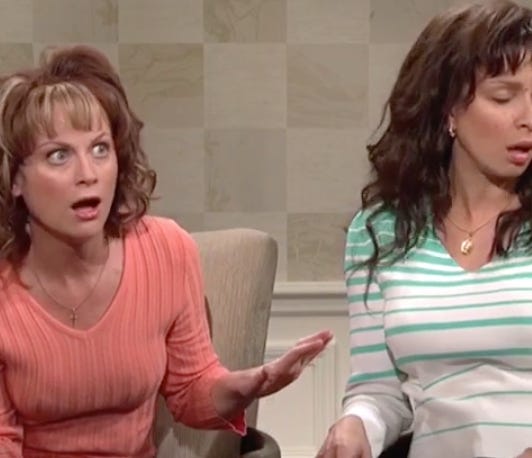 I for one could not be more ready for some layers. Who's with me? 
STUFF I DID 
It's our first Season 2 podcast episode! Featuring the beatific Jenny Lawson, who thinks September is trying to kill us all. (You've only got a few more hours, month, so good luck with that.) We also talk about how magical her dog is and her goofy but effective coping mechanism for panic. We barely mentioned taxidermy, so obviously we'll have to have her on again. 
STUFF OTHER PEOPLE DID THAT WAS ALSO PRETTY OKAY 
When he started kindergarten … he found that the wearing of costumes to school was not merely discouraged, or permitted only on special days, as in preschool: It was forbidden. It would also, undoubtedly, have incurred an intolerable amount of mockery. Abe's response was to devise, instinctively and privately, what amounted to a kind of secret costume that would fall just within the bounds of "ordinary attire" and school policy. Over the next few years, with increasing frequency, he went to school dressed up as a man—a stylish man.
This is very sweet. Read to the end—it's good all the way through, but the ending really got me right in the ol' feel-parts. 
The Four Donald Trumps You Meet on Earth
The next time you meet Donald Trump, he's your boss. Well, he's your boss's boss. A vice president in marketing who seemingly, literally, cannot stop talking. He's on his third wife, and that'll be over in a few years. He can't believe your mother is his age. He thinks you are friends. He asks you if you've changed your hair every time he sees you. Sometimes during meetings he'll turn away and open a magazine while someone is presenting.
NAILED IT. 
Science Says Silence Is Much More Important To Our Brains Than We Think
 A 2013 study on mice published in the journal Brain, Structure and Function used differed types of noise and silence and monitored the effect the sound and silence had on the brains of the mice. The silence was intended to be the control in the study but what they found was surprising. The scientists discovered that when the mice were exposed to two hours of silence per day they developed new cells in the hippocampus. The hippocampus is a region of the brain associated with memory, emotion and learning.
Well, now I feel much better about telling everyone around me to shut up. (I mean sure I guess could rephrase a little more politely, but, you know, shut up.) 
When it was decided (When was that again, and by whom?) that we were all supposed to choose between fiction and nonfiction, what was not taken into account was that for some of us truth can never be an absolute, that there can (at best) be only less true and more true and sometimes those two collapse inside each other like a Turducken. Given the failure of memory. Given the failure of language to mean. Given metaphor. Given metonymy. Given the ever-shifting junction of code and context. Given the twenty-five people who saw the same car accident. Given our denial. Given our longings
Pam Houston is a master. The End. 
Shhhh,
Alice