Alice Bradley's Weekly Newsletter: Have I told you lately that I love you?
No, but seriously. Thank you for joining me so far in this little experiment. This has been a rough week full of terrible news. I hope this newsletter arrives as a welcome distraction for you.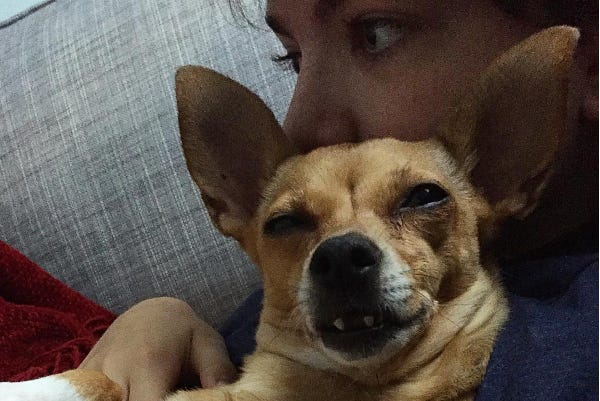 Here is a boy and his semi-toothed goofy dog. 

WHAT I WROTE THIS WEEK

In Case of Panic Attack, Read This! 
-Did you know that dolphins have names for each other? They call to each other by name. Interestingly they're all named "Barbara" or "Craig." 
-Baby elephants will suck their own trunks for comfort. Can you stand it? I would suck a baby elephant's trunk. This would comfort no one. 
 
ON THE PODCAST 
I'll Put Shorts on My Wet Body (with Lane Moore)

In which we discuss workaholism and how Lane Moore's drive to express her incredible gifts verges on compulsion. And we laugh. Oh, how we laugh!  

STUFF THAT'S ELSEWHERE BUT I LIKE IT 

From 9 to 5 to Digital Nomad
With a side project you can have this baby that is 100 percent yours. 
How side projects can become the gateway to creative freedom. There are a bunch of helpful insights in here, even for those of us who aren't 25. 

How Exercise Shapes You Far Beyond the Gym
Ask anyone whose day regularly includes a hard bike ride, sprints in the pool, a complex problem on the climbing wall, or a progressive powerlifting circuit, and they'll likely tell you the same: A difficult conversation just doesn't seem so difficult anymore. A tight deadline not so intimidating. Relationship problems not so problematic.
Just as I had convinced myself my leisurely dog-walks were sufficient exercise, I have to read this science-backed story about how pushing your physical limits has a profound influence on your brain. Damn it. 

To Be More Self-Reliant, Children Need Boring Summers
Dr. Teresa Belton … told the BBC that boredom is crucial for developing "internal stimulus," which then allows true creativity. 
My son hates this article, and also me. 

Aparna Nancharla on Conan
"No one tells you this, but there are models walking around all the time. It's like, unregulated." 
Aparna Nancharla will soon be regarded as a national treasure. If you don't know her, here's your chance. 

Have the best weekend you've ever had in your entire life, you wonderful being. 

And that's an order, 
Alice